Problem
Using your Android phone in the dark can strain your eyes! Don't worry, you don't have to give up using your mobile at night. You could just turn down the brightness on your phone but there are two reasons for not doing this. The first is that you have to go to the effort of turning down and then turning up the brightness, I know, poor you. The second reason is that turning down the brightness doesn't do a good enough job. It may make the screen darker but colours are still left quite sharp.
Solution
Screen Filter is a free app that simply applies a shade to your screen. This makes the screen much easier on your eyes. The shade is enabled by launching the app and is disabled by launching the app again. Screen Filter allows you to adjust the brightness of the screen filter.
Pros
1. Extremely easy to use
The screen filter can be enabled and disabled with a click of the app icon. Brightness can be adjusted by clicking the app in the notifications and choosing the percentage of brightness. The app even has a useful widget which makes it even easier to reduce brightness.
2. Effective
The Screen Filter is much more effective than lowering the screen brightness. The app manages to decrease brightness much more.
Cons
1. No cons
Well, this is a bit embarrassing! This is the first time I haven't been able to find a con for an app. Screen Filter is free, is easy to use and works much better than the inbuilt brightness adjuster. Help me out here, if you find a con let us know in the comments.
Conclusion
If you use your Android in the dark then download Screen Filter. It may be a one trip pony but its free and does its job very well.
Price: Free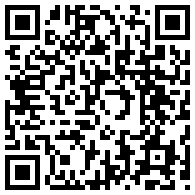 Either click the image on the left or scan the image with Barcode Scanner on your Android.